Concerning Saint Patrick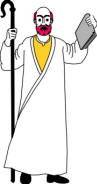 Patrick was something more than our modern day reason to drink green beer, enjoy a parade, and celebrate the Irish-ness that is supposed to be in everyone.
Patrick was a Christian. A man that turned the Irish nation upside-down for God, by preaching the powerful Gospel of Jesus Christ.
Today, what's left of his labours in the minds of most people is only a parade. But what he preached, and the reasons he risked his life among his enemies, are still alive and life-changing as ever.
Oh that his message were heeded once again!