Currently there are 9 students enrolled in classes for the 2013 school year.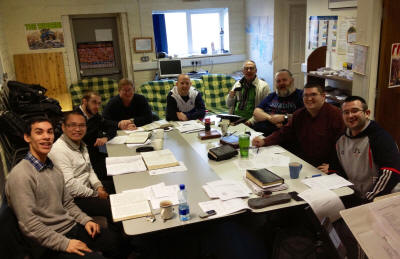 The current Courses being taught are:

The Book of Genesis - Module 1 (Chapters 1-10). A verse-by-verse study of this most fundamental Book of the Bible! It is the Foundation of the Bible. Just as the Book of the Revelation is the Capstone of the Bible. It is the cornerstone upon which EVERYTHING written in the Bible is based. Without it, none of the major themes of the Bible make any sense. Its Theme is all about "Beginnings": The beginning of Sin, Life and Death, The origin of Languages, The beginnings of music, the arts, and creativity, as well as the origin of the races – God started off with one race (Adam and Eve). We now have three main variations in the race – through Noah via Shem, Ham, and Japeth.

The Minor Prophets. These are twelve short books from Hosea to Malachi that are called 'Minor' Prophets not because of less importance than other prophetical books, but smaller in size. They represent some of the most neglected books in the Bible, and are are primarily prophetic – foretelling the future, both of coming judgement upon the northern Ten Tribes of Israel, upon Judah, and upon the surrounding nations, as well as future blessings upon the restored nation of Israel.

Introduction to Missions and Church Planting. This class will focus on the priority of evangelizing our world in our generation! It will introduce the student to the burden every Christian must bear for the lost in this world today, and the means by which every Christian, and every Bible believing church should be using to reach this world.

Preacher's Workshop is taught on Sunday evenings from 5pm to 6pm. Every man needs to learn how to declare the truths of the Bible, and especially of the Gospel! Preacher's Workshop will teach you how to study for a message, and how to deliver that message, whether to a Sunday School class, or a Church full of adults, or a Nursing home even! Sign up today for this exciting class that prepares the next generation of preachers!