Cork Bible Institute

Welcome to a College Level Bible Study Course!
Instituted March, 1999
The goal of this study course is as follows Ė each of these are differing levels of intensity, starting with the easiest:
Level

One
To enhance a Christianís understanding of the Scriptures for the purpose of being able to teach the Bible either in a Sunday School situation, or as a Discipler of new Christians.

Level

Two


To prepare the Christian to clearly preach the Gospel and faithfully pastor a church.

Level

Three (the hardest)
To prepare Bible-believing Missionaries to start churches anywhere in the world, starting in Ireland!.
There is no greater call, nor challenge than to teach and preach Godís word to our generation! If you know God has called you to serve Him, yet lack adequate confidence in Bible Doctrine, or desire a balanced systematic study on a college level, then this Bible Institute course could be for you.
Currently there are 9 students enrolled in classes for the 2014 school year.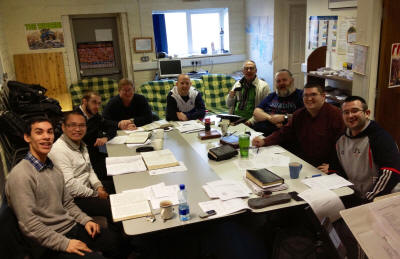 The current Courses being taught are:
9am The First Principles Discipleship Course. This two semester class teaches the 21 lessons of our First Principles Discipleship Course in a classroom setting. Normally Discipleship takes place in small groups, but this class allows people to take the course who might have not had the time yet so this time slot has been made available.
10.15am The Book of Revelation (B-033) The Book of the Revelation is Jesus Christís letter to all churches concerning the future of all mankind! This Book caps off the entire Bible, and explains the coming seven years of world tribulation, the antichrist, the false prophet, world-wide plagues, the Great White Throne Judgment of all the unsaved, the new heaven and new earth, the new jerusalem, and about 100 more amazing future events that every believer needs to know about and look forward to!
11.30am Sunday School Teacher Training (P-011). Every Teacher of Scripture feels inadequate, but with this class, they can know that they are focusing and learning the important ways to study in preparation to teach a childrenís Sunday School class. Things that will be explained and taught include the writing of lesson outlines, the use of visuals, puppets, songs and crafts. This is a very practical class, especially for people who want to just help in Sunday School.
The Book of 1st Samuel on Wednesday Evenings. This Old Testament Book is a great example of the work of God in the lives of His people! Sign up today for this time to be counted towards credit, and get started taking notes, and you can earn Bible Institute Credits right away!
Would You Like a Information Packet About our Bible Institute?
The Bible Institute is for Irish Nationals, or people who are currently living in Ireland. people living outside of Ireland cannot currently apply for course credit, but ARE WELCOME to download and complete the course materials, and they can purchase the course quizzes and Final Exams.
Click Here and Request an Information Packet
COURSES on OFFER