Currently there are 9 students enrolled in classes for the 2014 school year.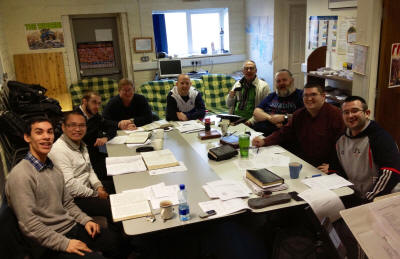 The current Courses being taught are:
9am The First Principles Discipleship Course. This two semester class teaches the 21 lessons of our First Principles Discipleship Course in a classroom setting. Normally Discipleship takes place in small groups, but this class allows people to take the course who might have not had the time yet so this time slot has been made available.
10.15am The Book of Genesis Module III (B-042) covers chapter 30 through 50. A verse-by-verse study of this most incredible Book! Genesis is the foundational book for the Bible - it is the cornerstone upon which EVERYTHING written in the Bible is based. Without it, none of the major themes of the Bible make any sense. Its theme is "Beginnings". The beginning of Sin, of Life and Death, the origin of Languages, the beginnings of music, the arts, and creativity, the origin of the races. This module covers the life and faith of Joseph!
11.30am The Doctrine of Angels and Spirits (D-015). This class will focus on understanding from the Bible the reality and effects of Angels, and other spirits on this world. It will delve into demonology, who and what Satan is, what are Angels, and what are their purpose. This class will answer many questions about the unseen world of spirits, and will remove much confusion and abuse that arises from this confusion.
5pm Sundays - Preacherís Workshop is taught on Sunday evenings from 5pm to 6pm. Every man needs to learn how to declare the truths of the Bible, and especially of the Gospel! Preacherís Workshop will teach you how to study for a message, and how to deliver that message, whether to a Sunday School class, or a Church full of adults, or a Nursing home even! Sign up today for this exciting class that prepares the next generation of preachers!
The Book of James on Wednesday Evenings. This New Testament Book is a great primer on practical Christianity! Sign up today for this time to be counted towards credit, and get started taking notes, and you can earn Bible Institute Credits right away!