Currently there are 9 students enrolled in classes for the 2014 school year.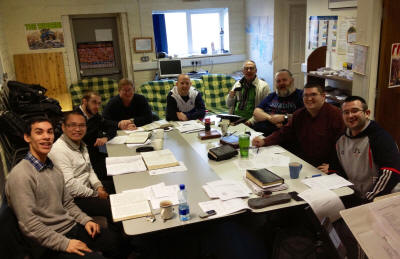 The current Courses being taught are:
The Book of Genesis (Module 2 covers chapter 11 through 29). A verse-by-verse study of this most incredible Book! Genesis is the foundational book for the Bible - it is the cornerstone upon which EVERYTHING written in the Bible is based. Without it, none of the major themes of the Bible make any sense. Its theme is "Beginnings". The beginning of Sin, of Life and Death, the origin of Languages, the beginnings of music, the arts, and creativity, the origin of the races. This module covers the life and faith of Abraham; the wrong and costly choices of Lot; Isaac, and the curse of Ishmael!.
Argumentation and Debate. This class will focus on practical methods of learning to discuss, debate, Biblically argue and persuade people to the truth as Jesus did. This is an exciting way to learn how to get our world to think, and challenge themselves, but will require the student to first learn how to think for themselves and challenge themselves and what they think they believe.
Sunday School Teacher Training. Every Teacher of Scripture feels inadequate, but with this class, they can know that they are focusing and learning the important ways to study in preparation to teach a childrenís Sunday School class. Things that will be explained and taught include the writing of lesson outlines, the use of visuals, puppets, songs and crafts. This is a very practical class, especially for people who want to just help in Sunday School.
Preacherís Workshop is taught on Sunday evenings from 5pm to 6pm. Every man needs to learn how to declare the truths of the Bible, and especially of the Gospel! Preacherís Workshop will teach you how to study for a message, and how to deliver that message, whether to a Sunday School class, or a Church full of adults, or a Nursing home even! Sign up today for this exciting class that prepares the next generation of preachers!
2nd Corinthians on Wednesday Evenings. This New Testament Book will explain the costs, hardships and fruits of the Gospel ministry! Sign up today for this time to be counted towards credit, and get started taking notes, and you can earn Bible Institute Credits right away!