The First Principles

Discipleship Study Course

"For when for the time ye ought to be teachers, ye have need that one teach you again which be
the first principles of the oracles of God."
Hebrews 5:12

What is Discipleship?
One of the greatest needs of Christianity is to be discipled - to be taught how to live the Christian life! Jesus said to His "disciples," to go out and "teach all nations!" (Matthew 28:19). The whole purpose of preaching the Bible is first to instruct people of their sinful condition, and their need for the Saviour, and then to train them as Jesus did His disciples. These Bible Study courses will aid the student of God's word to learn "all things whatsoever I (Jesus) have commanded you!" There are Twenty One Bible Study Lessons to work through and enjoy. These are no "simple" studies, or time wasters - they are milk, mixed with just the right amount of spiritual meat to help any seeking sinner find salvation in Jesus Christ, and every believer find the courage to stand for their Lord, and serve Him with full confidence in His perfect word!

Developed and produced by:

Pastor Craig Ledbetter
Bible Baptist Church of Ballincollig
Unit B, Enterprise Park, Innishmore, Ballincollig, Cork, Ireland
www.biblebc.com Email (021) 4871234 +353-21-4871234

What Lessons are Taught?

Click here to see the latest edition of the course!
There is also another simpler format lesson series called "First Time Bible Study" It is really simple, and yet such a blessing to watch people get saved by learning the great heart-changing truths of Scripture! If you want to view the first lesson of this Basic Bible Study Course, click

Salvation and the Word of God

The NEXT STEP after Discipleship is the Study of Practical Doctrine - see for yourself!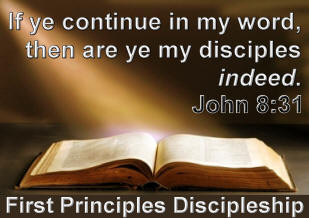 CAUTION:
These studies are free to be used by anybody, but are copyrighted, Craig Ledbetter, (C) 1994-2016
and may not be republished for any costs without the prior written permission of Craig Ledbetter.
Email Pastor Craig for more information on obtaining these materials in bulk for your church or Bible Study.
The entire Discipleship Course can be purchased on a CD in MS-Word format.