Meet the Pastor

!


About Craig Ledbetter and His Family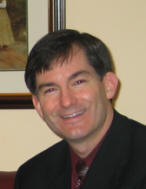 I was lost and without God for the first 17 years of my life. Then a woman named Maureen gave me and two friends a Gospel leaflet at a coffee shop late one Saturday evening. We made fun of her and mocked her and tried to shut her up, but with courage and compassion, she humbled us, and pierced my heart with the truth about hell and my need for Jesus Christ to intervene in my life and save my soul! She "dared" me to come to church the next morning. She said I was chicken to come out and hear the truth from God's word! I took dares very seriously back then, and showed up at her church (Hilltop Baptist Church), and went looking for her to tell her, "See, I'm here, I've got guts!" She replied, "Sit down. You haven't heard the preacher yet!"

Well, the man of God preached with such passion and clarity that I probably didn't blink the entire hour he went from truth to truth from the word of God!

Then came his invitation to repent and trust Jesus Christ as sufficient to pay for all my sin-account to God. I KNEW it was what I needed but I was not willing to be embarrassed, so I stayed in my seat. But the next week, I looked forward to hearing that Book preached again, and so I came again. Now people started asking me, "Are you saved? Are you a Christian?" I said, "Of course." What I meant was, I am not a Muslim, or a Mormon. Well the same thing happened, only this time, I tried to follow his every word in the pages of the Bible, and checked if he was actually quoting the Bible or just ad-libbing. He was preaching straight from the Book I held in my hands! It was too true!

Well, seven weeks went by, and Sunday mornings, and then Sunday evenings I was going to this church with about 250 other people who were not like any other "Christians" I had ever met. They REALLY knew this Man named Jesus, and they talked like He was GOD! But all along, I feared the embarrassment of going forward and taking the pastor's hand, and in effect admitting publicly that I was a sinner! So I kept back each time he pleaded for people to come and get born again!

Then, one Wednesday evening, I ventured out to that church to see what a Wednesday evening meeting was all about, and the pastor preached on "Tares among the Wheat." And there I was – exactly as he spoke – a faker! A fraud. A hoax. A sinner that was among the saints. And I was the fool!

And he said something that could never be forgotten, "Folks… Some of you are worried about what other people will think if you come forward and admit you are lost and on your way to hell! Well, I wouldn't go to hell for anybody!"

That did it! He was right. And so, on Wednesday evening, the 15th June, 1980, a new name was written down in glory! And it's MINE! Oh yes it's mine!

Well, glory to God! Praise the name of the most high!
Since that time, Craig completed four years of formal Biblical training at the Baptist Bible College, of Springfield, Missouri, obtaining two degrees - a graduate degree in theology (Th.G.), and a Bachelor Arts degree in Theology (B.A.). During his years at College, Craig met his wife, Nita, and they were married the day after graduation in May of 1985. From Springfield, Craig and his new wife went to New Jersey on the east coast of America, where he began six and a half years of practical experience as an associate pastor, preaching and teaching the word of God to all ages! It was also in New Jersey, that Craig was hired as Supervisory Computer Engineer at the main telephone company in the United States, where he also worked full-time for 6 ˝ years.
Craig and his growing family moved to Ireland in January of 1994, and began the Bible Baptist Church of Blarney, Co. Cork. For ten years he went throughout the North-side of Cork city from house to house and introduced people to the real Gospel as found in the Bible, and watched as dozens and dozens of people repented of their sins and their religious efforts, and turned to Jesus Christ alone for forgiveness! The building that the church met in Blarney was burned beyond repair in 2004, and the congregation prayerfully sought the Lord's direction for their future place of worship. That place was just nine kilometres away in the Westgate Foundation in Ballincollig. The church was then renamed the Bible Baptist Church of Ballincollig. Pastor Craig continues as always to go house to house introducing people to a real and personal relationship with Jesus Christ, and the challenge for them to live completely according to the Bible. He preaches three times each Sunday, presides over a third level Bible Institute called the Cork Bible Institute, conducts many various Spiritual Retreats, Bible Clubs, and week-long Youth Camps around the Cork area. He also speaks at area Universities concerning the Creation and Evolution debate. Pastor Craig a keen interest in photography, computer programming, and astronomy.
In 1997, Craig began the Bible Baptist Church of Mallow, Co. Cork, where he preaches and teaches God's word to local Mallow people who have come to faithfully grow in God's grace, and truth! He has a burning desire to evangelise, and start the New Testament kind of Bible believing, and Christ honouring Baptist churches all over the island of Ireland!
Pastor Craig and his wife Nita have five beautiful children: Sharon (18 years old and currently attending Bible College), Joel (16), Ruth (15), Joshua (11), and Sarah (7).
Please feel free to contact pastor Craig for any spiritual needs, for prayer, or for the start up of a Bible Study in your area! He can be reached at (021) 487-1234, or on his mobile at 087-276-6764, or at this Email.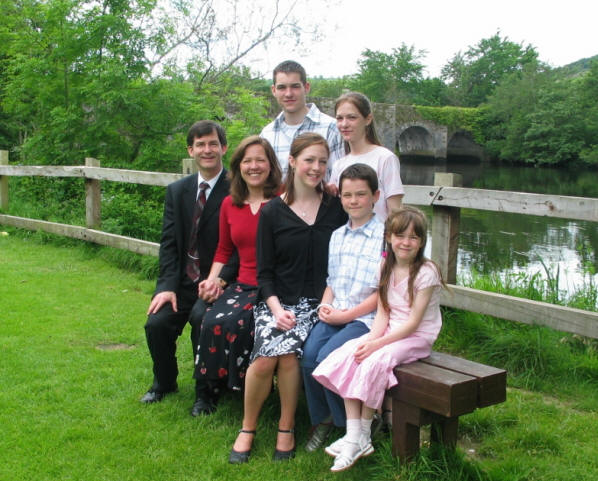 Joel, Ruth (in the back row)
Craig, Nita, Sharon, Joshua, and Sarah (in the front)
Pastor Ledbetter and his family have their own personal web page that gives much more information about themselves, and their ministry.